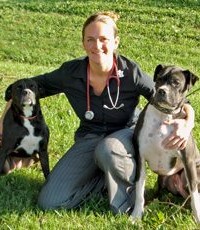 Dr. Hawkins attended Cornell University as both an undergraduate and veterinary student, receiving her undergraduate degree in 2000 and her veterinary degree in 2004. She moved down to Maryland after graduation and worked at Advanced Veterinary Complex for 5 years. She then worked at Westminster Veterinary Hospital for 2 years before deciding to open her own mobile veterinary clinic in April 2011. Dr. Hawkins has also worked as a relief surgeon at area shelter's spay/neuter clinics on her few days off!
Dr. Hawkins opened her mobile clinic because she saw there was a need for this type of service in this area. Pets are so much happier and relaxed when they don't have to travel in the car and go to the vet's office. Dr. Hawkins' customized truck can offer the exact same services a stationary veterinary clinic can.
Dr. Hawkins has a special interest in soft tissue, orthopedic and laser surgery, as well as dentistry. She truly believes in delivering the best possible care to her clients and their pets. Dr. Hawkins lives with her husband and her daughter in a small portion of the house. The 4 cats, 2 dogs, 3 rabbits and 4 chickens live in and control the rest of the domain!